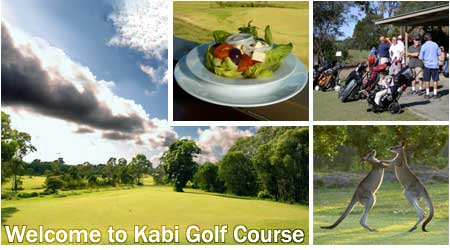 Kabi Golf Club was created to provide a place for recreation while preserving the environment. The organic aspect of the course makes it completely different from most other golf courses in the world.
Organics is quite often a misunderstood topic. Basically, it is doing everything the way it was done traditionally. In relation to a golf course it means that no toxic chemicals or fertilisers, usually used in modern-day greenkeeping, are used at Kabi. The ground staff hand weed the greens and spray only things that are made naturally, such as daisy extracts and worm-based fertilisers.

Kabi Golf Club is a fantastic place for large or small groups to enjoy a round. We offer 27 holes and cater for golfers of all standards. Now open for nineyears, the course has matured well and is constantly improving. The Par 3 course (18 holes) has been established the longest, with the full length Orchard 9 that has been open for six years a welcome addition. This provides golfers with variety and also the opportunity to pull out the driver in a unique setting amongst fruit trees.
Winner of the 2004 Sunshine Coast Environment Council's Sustainable Eco-Tourism Award